Points clarified by ministry to remove any doubt about the current position of Income Tax Law in respect of gold jewellery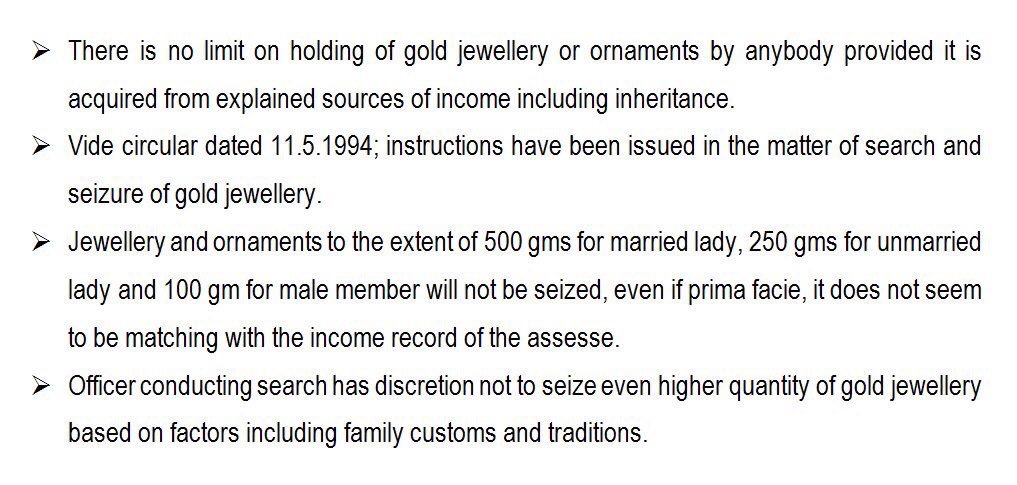 …………………………………………………………………………………………………..
31.1 grams gold = 1 troy ounce gold
here shown is 1 kilogram gold bar:       that's about 32 troy ounces
………………………………………………………………………………….
12-4-16    What this means, unfortunately, is that India's income tax officers have just won the lottery.  During a raid they can on the spot decide whether or not to confiscate a family's gold holdings.  And remember, India has an enormous amount of gold — 20,000 metric tons, much of it inherited.  (The rules governing simple searches are different, but few know that.)  Rather than cleaning up tax administration, the government has handed tax officials more power than they've had for decades.  The rich will pay what they need to escape harassment; the rest will suffer.
The worry is that the government, having committed itself to draconian measures to seize black money, will resort to more such attempts to live up to its promises.  An India in which individuals are constantly concerned about their ability to explain their returns and their assets to powerful and poorly monitored tax officers is not one in which investment is likely to pick up.     https://www.bloomberg.com/view/articles/2016-12-04/after-demonetization-modi-should-do-no-more-harm
………………………………………………………………………………………………..
12-16-16      India today holds perhaps 50% of its $2 trillion of private household wealth in physical gold….
Hardly anyone pays income tax in India – as 
few as 1% on official data
 – and untaxed transactions might account for half of economic activity on some estimates. Corruption is endemic, and the Modi government – in line with Western authorities – thinks physical cash does more than simply enable it. S o despite all this chaos, Modi's move 
is still mostly backed
by the population, at least according to Indian media, because corruption is a terrible drag on doing business and everyday life in general for the vast majority of voters.
Untracked and untraceable, banknotes are the lifeblood of backhanders and bungs.  But New Delhi sees physical gold as the fat store, holding value – again untracked and untraceable – far from the Revenue Service's grasp until the ordinary householder's everyday criminal acts need to release it as cash.  (Another such store is real estate, 
now next on Modi's list
 of tax evasion targets.)  One senior bullion-market bank executive 
reckons that 10-30%
 of India's gold investing and jewelry demand is paid for using so-called 'black' money.  That guess might jump higher still for any metal sold since demonetisation struck – again confirming the industry as crooked amid the impact of the government's own policies.
Jewelers can't even buy people's gold back from them legally, because there's no cash to pay them with and no hope of re-selling again because there's no cash for local buyers to pay with and bullion exports are banned.  Many individual jewelers and dealers are meantime being pursued by the tax authorities for accepting the now banned banknotes after the 9 November deadline, with the giant Axis Bank 
freezing at least 50 gold business's accounts
 for suspicious deposits. …
As for China, Beijing has by all accounts tapped the brakes in gold inflows by restricting the number of licenses it issues.  But inflows to where?  The international free-trade zone in Shanghai doesn't count as China, not for import purposes, not until bullion crosses the line into the Shanghai Gold Exchange's domestic section.  All that gold leaving Western ETF accounts in London and also Comex warehouses in the US must be going somewhere.
 Word is, Switzerland is seeing heavy shipments of .9999 fine gold, the high-grade kilobars loved by the Far Eastern markets.   https://www.bullionvault.com/gold-news/gold-india-121620164
…………………………………………………………………………………………..
12-7-16      In 2011, Macquarie estimated that more than three-quarters of Indian household savings were in gold.  The lion's share of the country's holdings are in jewellery, not bullion or coins….There was another rush to buy the metal last month after Modi announced another corruption-busting measure – the demonetisation of all 500 and 1,000 rupee notes which made up 86 per cent of cash in circulation in the country.  http://www.cityam.com/255143/why-do-some-nations-hold-more-gold
………………………………………………………………..